Register for Marc's new Give-Away Challenge!
I'm giving away a Blackstone Griddle and Charcoal Grill Combo, a set of Grillville Deluxe Skewers and 8 packs of Marc's on the Grill Seasonings!
To watch this Challenge Video on YouTube, CLICK ON THE TITLE ↓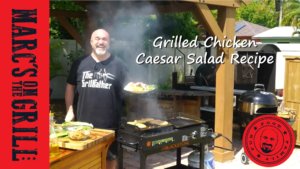 INSTRUCTIONS
:
Register your name and email, then answer the 5 questions before 7:00 PM(EST) on December 9, 2020
Each answer has to have at least three letters. Please type in the words, not numbers! (For example, don't enter "8", instead write "eight".)
PLEASE USE ONLY ONE LINE PER ANSWER
If you submit the answers, you get a chance to win 1st Prize: Blackstone Griddle and Charcoal Grill Combo
2nd Prize: Set of 4 Grillville Skewers
3rd Prize: 8 packs MotG Seasonings
2 packs each of Pork Rub, Beef Rub, Chicken Seasoning and the unique SPG Blend of Himalayan Salt, 7 types of pepper and Elephant Garlic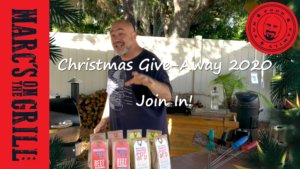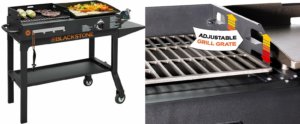 Blackstone Griddle and Charcoal Grill Combo Features:
With the best of both worlds, never settle again for how you want to cook with the Blackstone Griddle and Charcoal Grill Combo. The charcoal grill side is perfect for those that love the taste of the traditional outdoor cooking. The grill grate is adjustable to place it closer or further away from the coal for more control while cooking.
The griddle side is perfect as a companion to the grill to sauté vegetables, toast buns, or make sides for your meal. The griddle is great to expand how you cook outdoor by allowing you to go from breakfast, lunch. and dinner quickly and easily. Step up the way you cook outdoors with the Blackstone Griddle & Charcoal Grill Combo!
BLACKSTONE GRIDDLE AND CHARCOAL GRILL COMBO FEATURES
Grill Grate Dimensions 16" 15.75"
Griddle Dimensions 17" x 15.75"
Adjustable 12,000 BTU 'H' Style Stainless Steel Burner for the Griddle
New Rear Grease Management System for the Griddle Top
Charcoal Grate Hook included
Propane Adapter Hose included
Additional Hooks on the Front for Cooking Utensils
Wheels and Handle for Easy Maneuverability
Side Shelf to Support one-pound Propane Tank and Prep Space
Box Dimensions--40.5" L x 14.5" H x 20" W, 82 LBS
Assembled Dimensions--50.5"L x 21.25"H x 35.75"W, 68 LBS
MotG Christmas 2020 Give-Away – Rules and Regulations
From 5 PM EST on November 28, 2020 and closes at 7:00 PM EST on December 9, 2020.
Contest opens at 5:00PM EST on August 22, 2020 and closes at 7:00 PM EDT on December 9, 2020.
To enter and be eligible to win, entrants must be a legal resident of any of the United State of America's continental 48 states and be eighteen years of age or older. Employees and the parents, siblings and children, and persons domiciled with an employee of Marc's on the Grill, LLC and any other organizations, media or businesses, who assist or aid in the contest are ineligible to enter.
No purchase is necessary. Limit of one (1) entry per person per contest.
The 1st Prize is awarded with one (1) Blackstone Griddle and Charcoal Grill Combo.  The 2nd Prize is awarded with one (1) set of 4 Deluxe Grillville Skewers.  The 3rd Prize is awarded with eight (8) packs of MotG Seasonings and Rubs.  Marc's on the Grill, LLC is not responsible for lost or stolen prizes.
The potential winners will be randomly drawn from all eligible entries received on-line on MarcsOnTheGrill.com at approximately 7:30 PM EST on December 9, 2020 These entries, on-line only, are restricted to one (1) entry per participant. The selected entrants must first answer five (5) questions related to a Marc's on the Grill video, based on a web-page form on www.MarcsOnTheGrill.com.  Before being awarded a prize potential winners will be required to sign and return by December 10, 2020 by email, a full release and indemnity form stating that he/she has read and understood the Contest Rules and Regulations, grants all consents required, and authorizes Marc's on the Grill, LLC to broadcast, publish and disseminate his/her name, city of residence, photograph, likeness, sobriquet and voice, in connection with any promotion or publicity, and/or for general news, entertainment and information purposes at no additional compensation to the potential winners, beyond the awarding of or participation in the prizes.
If for any reason, one of the Prize entrants (or his or her parent or legal guardian) cannot be reached by email within three (3) days, he/she will forfeit the prize and contest officials reserve the right, but not the obligation, to draw another entry.
The prizes are non-transferable or convertible to cash. Contest winners will be mailed the prize by a registered carrier.  The winners will be sent tracking information for the delivery.  Once in the hands of the carrier, Marc's on the Grill, LLC is not responsible for the prizes being damaged, stolen or otherwise missing.
Personal information provided on the entry form (name and email address) will be used by Marc's on the Grill, LLC to administer the contest. Certain information provided (such as postal codes and age) will also be aggregated by the Marketing Director of Marc's on the Grill, LLC or designate to provide market data, but will not be identifiable by individual.
By registering, participants agree to receive product related notifications from Marc's on the Grill, LLC.
This contest is subject to all applicable federal, state and municipal laws.
By entering, all contestants release and agree to hold harmless Marcs on the Grill, LLC, any equipment manufacturer, retailer or agency operating with Marc's on the Grill, LLC, any of their respective directors, officers, partners, employees and agents of all such parties and any prize suppliers (collectively, the "RELEASED PARTIES") from and against any and all liability for any injuries, damages to persons (including death), damages to personal property or any loss whatsoever (collectively "LOSSES") causes directly or indirectly, in whole or in party, by the contestants' participation in the contest, including but not limited to Losses arising from: (a) the contestant's acceptance, use or misuse of any prize awarded on the contest; (b) any act or omission made by any Released Party; third party (including any other Contestants) or the Contestant himself/herself; (c) any latent or apparent defect or condition in any equipment used in the contest; (d) any previous medical condition of the Contestants; (e) the administration of any first aid, medical or emergency treatment or other services rendered to the Contestant; and/or (f) the consumption of food or drink by the contestant.
Marc's on the Grill, LLC is not responsible for lost, misplaced, misdirected, illegible or damaged entries or entries submitted after the contest deadline. Marc's on the Grill may at is sole discretion alter, amend, suspend or cancel this contest or amend Contest Conditions at any time.  Decisions of Marc's on the grill are final.  All entrants must meet and comply with all Contest Conditions.  Failure to do so will result in immediate disqualification and prize forfeit.
Facebook, YouTube, or any other social media platform are not responsible for this promotion and contest, in any shape or form.